The Universidad Carlos III de Madrid team wins the Spanish round of the Jessup 2023 Competition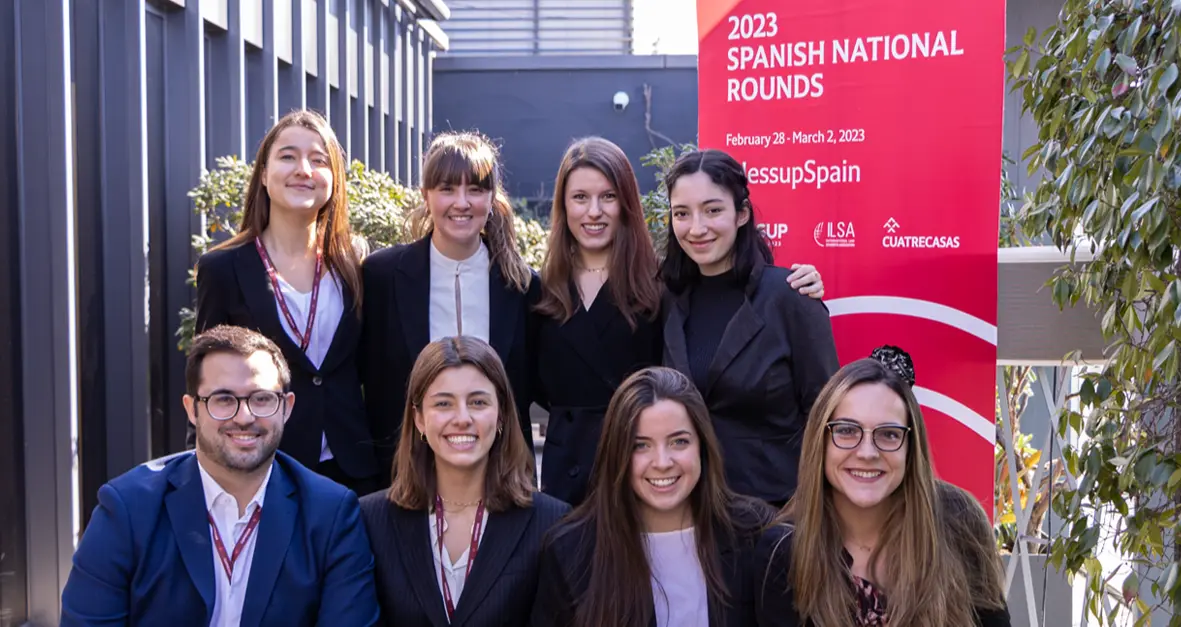 A team of Universidad Carlos III de Madrid students were declared the winners of the national round of the Philip C. Jessup International Law Moot Court Competition (Jessup), after defeating the team from Universidad de Murcia in the final round. Cuatrecasas hosted the 13th consecutive edition of the national rounds of the competition, an international benchmark in court simulation events, which took place between February 28 and March 2 at the law firm's Madrid offices.
The winning team wins a spot to participate in the 64th edition of the international Jessup. The competition will bring together some 700 universities and law schools from approximately 100 countries and different jurisdictions at the Hyatt Regency Hotel in Washington, D.C., after having to hold the last two editions online.
In the national rounds, 34 law students in 7 teams represented ESADE Business & Law School, IE University, Universidad Autónoma de Madrid, Universidad Carlos III de Madrid, Universidad de Deusto, Universidad de Murcia and Universitat Pompeu Fabra.
Using the regular competition format, the teams debated a current legal conflict before a jury made up of a group of experts in the matter. This edition focused on the "Clarent Belt case," a dispute among three nations over the interpretation of a peace treaty; the terrorist attacks in allegedly occupied territories; unilateral economic sanctions; and the legal consequences of mismanaging hazardous waste.
After analyzing the arguments presented by the students in the final round, the jury decided to reward the efforts of the team from Universidad Carlos III de Madrid: Pilar Farias, Sara Jaime, Lucía León, Sofía Resino and Lucía Vilanova. This recognition is the culmination of the work carried out during recent months together with their coaches: María de Arcos, Paola Chamorro, Ana Mañá and Javier Pérez.
Cuatrecasas partner and jury member
Alberto Fortún
emphasized his satisfaction with the competition's final result and noted "Welcoming Jessup back to our auditorium has been special. The quality of the speakers, the level of advocacy, the ability to respond accurately to difficult questions and the total control of the matter in a conflict of public international law, equivalent to postgraduate studies, was extraordinary. And the fact that four teams from different universities have also won awards is to be celebrated. I am confident that the Spanish team will set a high standard in Washington, D.C."