Spain
Portugal
International
Cuatrecasas announces appointment of four new counsel at Partners Meeting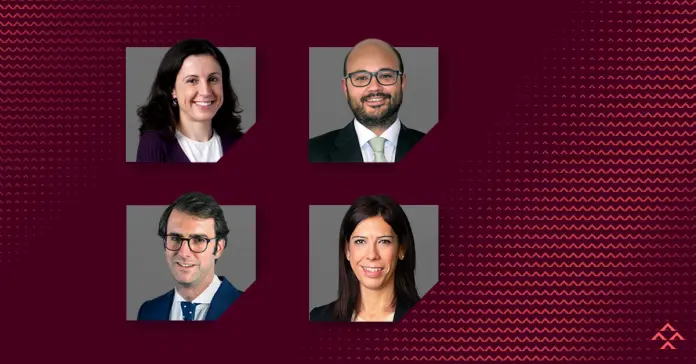 On Thursday April 28, Cuatrecasas announced the appointment of four new counsel at its Partners Meeting: Ana Helena Farinha, Íñigo de Ros Raventós, Begoña Segovia Zabaleta and David Vidal Vela. This promotion is further proof that the firm places its faith in its lawyers' talent, supporting the development of careers that clearly demonstrate the lawyer's capacity and future commitment to the firm.

Ana Helena Farinha | Corporate Taxation, Lisbon
Specialist in corporate taxation, transfer pricing and tax governance.
She advises on national and international corporate reorganizations, the structuring of transactions, real estate transactions, and investment and divestment transactions.
Íñigo de Ros Raventós | Litigation and Arbitration, Barcelona
Specialist in white-collar criminal law and in implementing corporate compliance programs. Doctor of Laws by University of Navarra.
Begoña Segovia Zabaleta | Corporate Taxation, Bilbao
Specialist in tax planning for large estates and family businesses, and in defending clients in tax inspections and investigations. She also has extensive experience advising on the intergenerational transfer of family assets and restructuring family businesses. She speaks at seminars on tax law and has authored several articles for legal publications.
David Vidal Vela | Finance, Madrid
Specialist in project finance and particularly the renewable energy and infrastructure sectors. He advises national and international financing institutions and sponsors, and has extensive experience in negotiating construction and operating agreements in those sectors. He has participated in many debt restructuring processes in the energy, industrial and real estate sectors, advising debtors and creditors on preparing and negotiating standstill and refinancing agreements, and homologation processes. An author of law review articles, he speaks at seminars, and lectures at university institutions such as the Institute of Stock Market Studies (IEB) and the University College of Financial Studies (CUNEF).