Firm's new senior associates accept challenge to complete part of Camino Santiago way over four days to improve their skills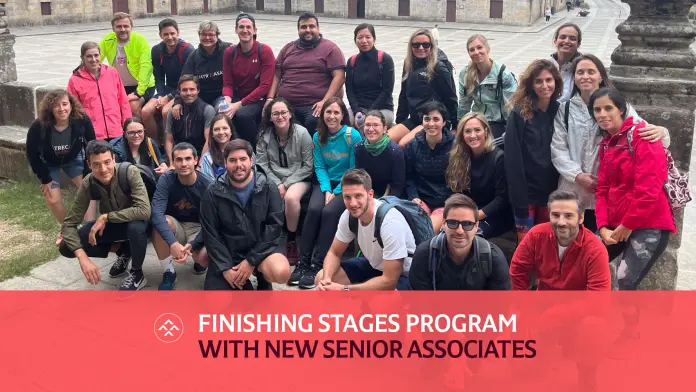 From October 2 to 6, Cuatrecasas held the latest edition of its Finishing Stages Program for lawyers that joined the firm as senior associates and those promoted to senior associate in 2023. The main objectives of this annual program are to promote a sense of belonging at the firm and to promote the improvement of key skills for practicing law. It also provides a perfect environment for the participants to share their experiences and any reflections about their future at the firm.
This year, 25 lawyers from different offices in Spain, Portugal and Latin America accepted the challenge to complete part of the Camino Santiago way to work on body and mind. The participants' pilgrimage to the capital of Galicia in Spain was divided into four demanding phases. After the pilgrimage, they had the opportunity to participate in different activities and attend talks given by Cuatrecasas experts.
The motto of this edition under which the different training sessions were carried out was "Leadership and team management." Accompanying the new hires and recently promoted lawyers were: Javier Fontcuberta (managing partner at Cuatrecasas), Núria Martín (human resources director), and partners Antonio Carreño, Elisabeth Errasti, Paz Irazusta, Rebeca Rodríguez and Marco Antonio Sanz. Participating as external experts were Intiva Desarrollo Directivo partners, Begoña de las Llanderas and Enrique Recuerda.
Once again, Cuatrecasas has shown its firm commitment to supporting and guiding its lawyers at each stage of their career plans, in an effort to provide them with all the tools necessary to continue growing professionally.