Cuatrecasas completes its Welcome Program after welcoming the 28 Master's degree students who will carry out their internship at the firm this summer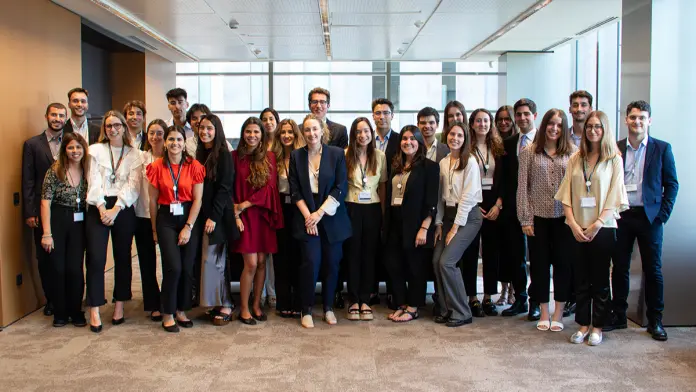 On June 20 and 21, Cuatrecasas held a new edition of the Welcome Program with which it received 28 students of the Master for Admission to the Practice of Law, who have joined the firm to carry out their internship this summer in the practice area of their choice.
In addition to welcoming these promising young legal talents to the offices in Barcelona, Madrid, Bilbao and Mexico City, the program provides them with information about the firm's organizational structure, the cornerstones of its culture and values, its Pro Bono services, the work of the Knowledge and Innovation Group, and they discuss examples of successful cases and international experiences. This is a unique opportunity to gain in-depth knowledge on how the firm works internally.
The days were organized around different online sessions with the participation of the following Cuatrecasas professionals: Ane Agirretxea, Corporate and M&A associate; Marta Cabarrocas, knowledge technician-documentalist;
Valentín García
, Labor and Employment partner;
Anna Martínez
, project manager officer; María Piera, recruitment specialist; Núria Rexach, recruitment manager; Glòria Ruiz, recruitment specialist;
Pol Solsona
, Finance partner;
Mariano Ucar
, Corporate partner; Susana Vaquero, Corporate and M&A mid-level associate; and Alba Vázquez, recruitment specialist.
On this occasion, the new recruits at the Cuatrecasas offices in Spain and Latin America have chosen to carry out their internships in the practice areas of Corporate and M&A, Competition and EU Law, Public Law, Finance, Intellectual Property, Financial Taxation, Tax Litigation, Labor and Employment, and Litigation and Arbitration.