The new project has been developed to meet the training needs of companies and other organizations.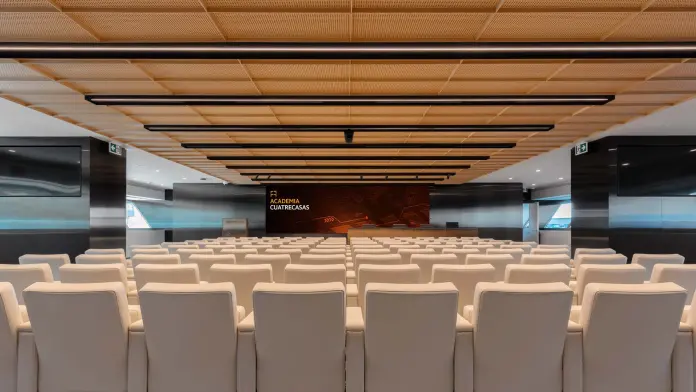 On Tuesday, November 30, Cuatrecasas will launch a new project developed to meet the training needs of companies and other organizations in Portugal: the Cuatrecasas Academy. Certified as a training institution by the Directorate-General for Employment and Labor, the academy will offer hybrid training formats.
The first meeting of the Cuatrecasas Academy will open with a round table on "Future Training," which will be held in the Cuatrecasas auditorium in Lisbon, with the directors of Farfetch, Galp, Novo Banco, and Outsystems working in strategic Human Resources and Compliance as the guest speakers (full program).
The main target of the Cuatrecasas Academy is business, and it focuses on anticipating and meeting the training needs of companies through courses that are mainly aimed at teams that require qualifications, the renewal of qualifications, and new knowledge in a specific sector or professional role, which affects motivation, productivity, and the prevention of legal risks.
The training programs have a strong practical focus, helping organizations and professionals to promote talent and enabling companies to keep up to date and become more competitive, with greater capacity to manage risks and make use of the opportunities offered by the legislative, tax, and regulatory frameworks to which they are subject. "This goal is particularly important in the current context of general uncertainty, in which companies' activity is highly unstable and digital transformation continues at an accelerated pace, meaning the ability to adapt to change is about to be critically tested," says Paulo de Sá e Cunha.
The training available includes courses in which companies can register their technicians and managers. Some of the courses already available include Challenges of the digital economy, Use of chatbots in insurance, and Law for the layperson. Course and training actions requested to meet the specific needs of each organization will also be developed. The various formats (face-to-face, remote, and hybrid) allow for greater flexibility, combining the benefits of face-to-face training with the advantages of remote learning, which, thanks to digital equipment and teaching materials, can take place anytime, anywhere.
The chairs of the Management Board and Scientific Board of the Academy are respectively Cuatrecasas partners Paulo de Sá e Cunha and Lourenço Vilhena de Freitas. The chair of the General Meeting is managing partner Maria João Ricou. All faculty members are qualified as certified teachers, and some of them come from an academic background.
The Cuatrecasas Academy website is academiacuatrecasas.pt.