Winners of first Cuatrecasas Challenge announced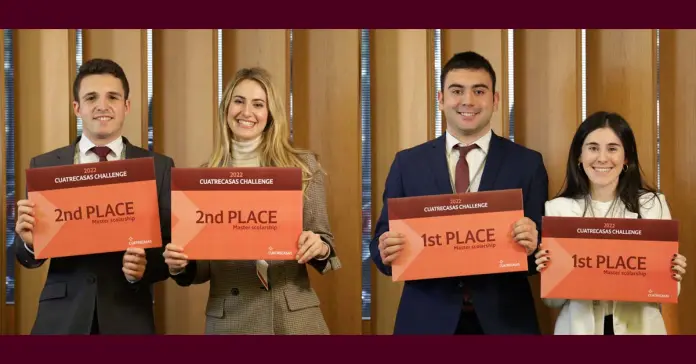 After several months of hard work, the first edition of Cuatrecasas Challenge has ended this week with great success. The winning team was made up of Mikel Guarnido González de Herrero (Universidad del País Vasco) and Ana Giménez Ansó (Universidad de Zaragoza), and the runners-up team was made up of Víctor Pérez Martínez (Universidad del País Vasco) and Mercedes Fuster Martínez (Universidad Carlos III de Madrid).
After submitting a written defense in February, on Thursday[TB1] March 10, the eight finalist teams orally defended the case on which they had been working since December. The 16 participants started their defenses with an initial explanation of the case, covering the main issues and, later, answered the questions posed by a panel made up of four partners from the firm's different practice areas and offices: Almudena Batista (Labor and Employment, Madrid), Javier Garanto (Tax, Zaragoza), Marta Gispert (Litigation and Arbitration, Barcelona) and Miguel Sánchez Monjo (Corporate, Madrid).
The teams had the task of analyzing a multidisciplinary case covering issues from the tax, corporate, litigation and arbitration, and labor and employment specialties, which the Cuatrecasas Knowledge and Innovation Group (ACI) designed in December. ACI had an essential role throughout the competition in relation to business law.
The two winning teams of Cuatrecasas Challenge will receive financial aid toward the master for admission to the practice of law or a dual master degree program with a specialization, and the opportunity to carry out an internship with the firm.