Universitat Pompeu Fabra students team is the new winner of Jessup Spain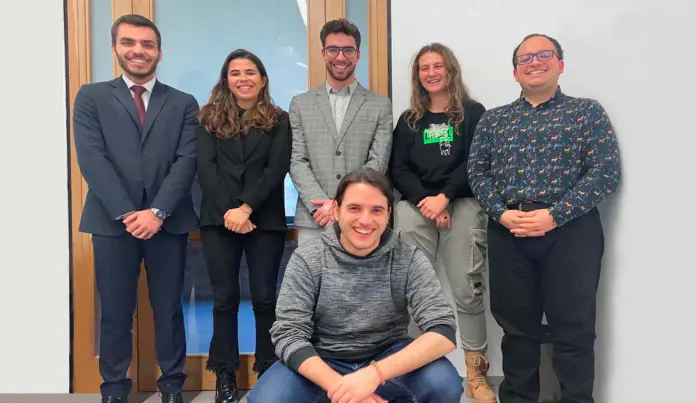 The team of students representing Pompeu Fabra University (Barcelona) were named winners of the Spanish national rounds of the 2022 Philip C. Jessup International Law Moot Court Competition, after beating the team from University Carlos III of Madrid in the final debate. With this result, both universities have secured a place to compete in the sixty-third edition of the international rounds; the former as national champion and the latter as runner-up. The international competition will be held online from March 24 to April 10, 2022.
For the twelfth consecutive year, Cuatrecasas held the qualifying round of this prestigious international competition on public international law, which this year took place online from February 15 to 18. In this new edition, the competitors were 8 teams of the most outstanding law students from the Autonomous University of Madrid, Comillas Pontifical University (Madrid), ESADE–Ramon Llull University (Barcelona), IE University (Madrid), Pompeu Fabra University (Barcelona), the University Carlos III of Madrid, the University of Deusto (Bilbao), and the University of Murcia.
As in every edition, the students debated in teams over a current legal issue before an expert panel of judges, whose members included some of the firm's lawyers. On this occasion, the different rounds revolved around a case between the Democratic Republic of Antara and the Velan Kingdom of Ravaria in relation to the parties' differences concerning the Suthan Referendum.
"The Jessup is a highly demanding competition and it is very rewarding to see the Spanish students outdo themselves year after year," stated Clàudia Baró Huelmo, a member of this year's jury panel and lawyer at Withersworldwide.
The jury panel made the difficult decision in the final debate, after both teams had rested their case. With the verdict, the Pompeu Fabra University law students Anastasia Baranova, Duna Gironès, Francisco Javier Moreno, Diego Ernesto Iván Sánchez and Adrián Vilà were named winners of the 2022 Jessup national rounds; with the support of their coaches Adrián Agenjo Aguado, José Manuel Aznar Puyalto, Silvia Terzulli Gali and Alesia Zhuk.