Cuatrecasas consolidates its team in Latin America with the promotion of three partners in its Bogotá, Lima and Santiago de Chile offices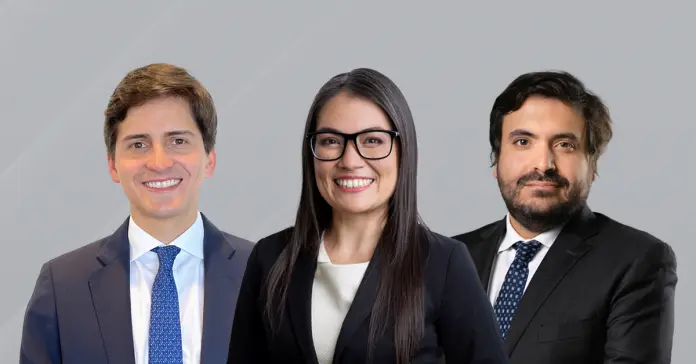 Cuatrecasas has promoted three new partners in its Latin American offices, strengthening its position in the regional market. Lawyer Kiomi Osorio becomes a partner in the Peru Finance, Corporate and M&A Practice; Juan Carlos Puentes has been appointed partner in Colombia's Finance Practice; and Juan Manuel Rey is now partner in the Chile International Litigation and Arbitration Practice.
Specializes in advising national and international companies on mergers and acquisitions, financial transactions, capital markets, and banking and corporate law. Her advisory services include complex, multi-jurisdictional share and asset purchase transactions, securities offered through local and international issuances (under US Rule 144-A and Regulation S), traditional and structured financing, project financing and investment funds.
Commenting on Kiomi's promotion,
Aldo Reggiardo
, Cuatrecasas managing partner in Peru, said, "it reflects the competence, dedication to client service and work capacity of one of the most talented lawyers of her generation; together with an increase in corporate cases, particularly in the Corporate and M&A Practice of the firm's Peruvian office. I am sure that Kiomi's people skills and professionalism will contribute to our efforts to establish the office as one of the leaders in our jurisdiction."
Specialist in structured finance and project finance. He has experience advising financial institutions—including multilateral organizations, commercial banks and sponsors—on complex financing transactions of toll roads, ports and airports, energy projects and other infrastructure projects in Colombia.
Manuel Quinche
, Cuatrecasas managing partner in Colombia, said, "the incorporation of Juan Carlos as a Cuatrecasas partner is a reason for happiness, motivation and gratitude. Gratitude for accepting the challenge of continuing to build a global organization together in which we know his contribution will be invaluable. Motivation because people like Juan Carlos are a daily inspiration to work tirelessly so that the new generations of lawyers will find an organization in Cuatrecasas where their professional development is limitless. And happiness because the enthusiasm and energy that Juan Carlos instills in everything he does is contagious and is a guarantee for the clients that place their trust in us."
Specialist in international arbitration and alternative dispute resolution, advising leading companies on national and international commercial and investment arbitration. He has extensive experience representing clients in disputes arising from construction and infrastructure agreements, share purchase agreements, and power concession and purchase agreements.
Cristian Conejero
, Cuatrecasas managing partner in Chile, said, "Juan Manuel's well-deserved promotion reflects his impressive track record in international commercial and investment arbitration, his technical knowledge and competence, and the many times he has represented clients in international courts. The promotion also reflects Juan Manuel's contribution to the Cuatrecasas International Arbitration Practice. He is currently working on cases in Mexico, Panama, Colombia, Ecuador, Peru and Chile, and his contribution to our clients on different matters in the region will continue to be the key to our positioning."
With these promotions, Cuatrecasas continues to consolidate its team in Latin America to confirm its position as a leading law firm in the region.