The Cuatrecasas team in Mexico City unveil new offices on the twenty-ninth and thirtieth floors of Torre Reforma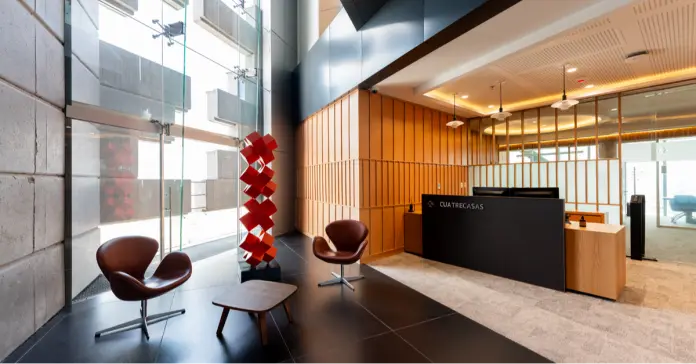 After over six years on the fiftieth floor of Torre Reforma, Cuatrecasas has just unveiled its new offices in Mexico City on the twenty-ninth and thirtieth floors of the same building (Av. Paseo de la Reforma, 483). The increase in the workforce and the integration of law firm Rico, Robles y Libenson in the firm have been decisive in this relocation. The privileged location and facilities—an architectural benchmark in innovation and design—stand out as crucial factors to continue opting for spaces in the same building.
Over 60 colleagues can now occupy their new workspaces; the 1,534 square meters of office space doubles that of the previous office with a permanent focus on factors such as comfort, technology and sustainability. The two floors have an interconnecting staircase, providing improved circulation and connectivity for all the team. In addition, there are five client meeting rooms, the largest of which can hold 16 people. To facilitate daily work, the new facilities have two internal meeting rooms, three phone booths and an area called the gravity point. In this way, Cuatrecasas continues to promote a friendly, open, functional and eminently digital environment that enhances collaboration and motivation in all our professionals.
According to Iván Libenson, managing partner of the Cuatrecasas Mexico City office, the new location will provide greater client proximity and service excellence. Libenson points out that, "We are delighted to celebrate this great step that Cuatrecasas is taking both in Mexico and in the region. The inauguration of the new offices in Mexico City is a sign of the Firm's expansion in the continent and the consolidation of our model at the international level. We expect to continue to grow steadily, with the aim of providing comprehensive, high quality advice tailored to each of our clients".
In the words of Antonio Baena, head of International Practice at Cuatrecasas: "We are immensely proud of this new milestone in the development of our Latin American project and, in particular, of such an important office as that of Mexico City. We are very pleased indeed; this is a result of our teams' ongoing efforts and marks a turning point in our Mexican platform, providing us with cutting-edge, functional and emblematic offices. Their design and technology strengthen our image as an innovative firm and will allow us to serve our clients in the best way possible. This is the foundation of our hopes of becoming a benchmark law firm in the Mexican market."
At the Mexico City office, Cuatrecasas has a multidisciplinary team of highly specialized lawyers that provide legal advice on all areas of business law and on corporate and asset transactions. Our comprehensive legal services cover mergers and acquisitions; commercial transactions; competition, energy, labor and public law; as well as tax, real estate, international litigation and arbitration, and finance.