Soraya Sáenz de Santamaría joins as partner of Corporate Practice to lead Corporate Compliance Practice Area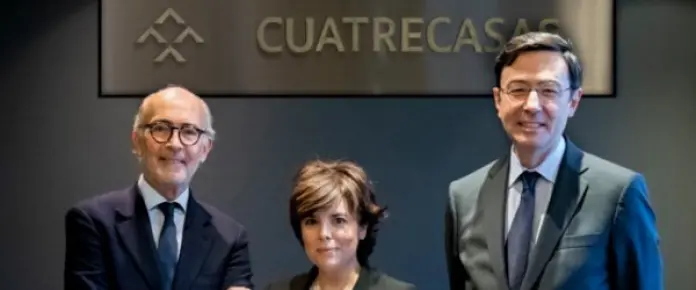 Soraya Sáenz de Santamaría joins the firm as a partner and member of the board of directors. A law graduate and counsel for the state, she will focus her professional activity in the firm's Corporate Compliance Practice.
Our new partner resumes her professional career after fulfilling all the procedures required under the regulations applicable to senior officials and staff at the service of Public Administration. Sáenz de Santamaría states "lawyers with vocation are fortunate to be able to serve society and the rule of law in various fields. I am delighted to return to law and to do it together with the magnificent team of Cuatrecasas professionals, from whose experience I hope to continue learning for years to come."
Rafa Fontana states, "Soraya Sáenz de Santamaría is an exceptional lawyer who has demonstrated her value and great managerial skills throughout her professional career. All the partners of the firm are very happy about her decision to renew her commitment to practicing law and the fact that she will do it with us. We are convinced that her talent will be highly appreciated by clients who need comprehensive advice on corporate compliance. She joins a growing practice that is key to any company."
A law graduate (Universidad de Valladolid), Sáenz de Santamaría was admitted to the Body of Counsel for the State in 1999. She was vice president of the Spanish government and minister of the presidency and for territorial administrations, as well as government spokesperson. She was a deputy and parliamentary spokesperson for Partido Popular (People's Party) in the Spanish Parliament during the IX Legislature. She is currently an elected state councilor.