Cuatrecasas Acelera holds its Demo Day. Register now to see this edition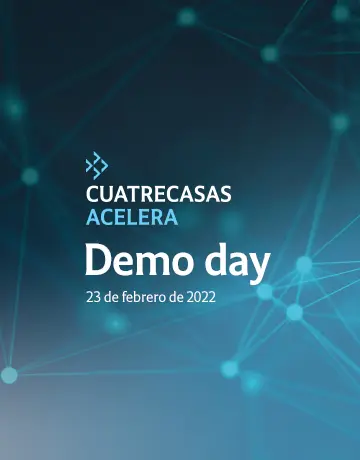 On Wednesday, February 23, Cuatrecasas will hold a Demo Day in its Barcelona office auditorium, thus concluding the sixth Cuatrecasas Acelera program. This accelerator program has helped over 35 startups to gain traction and promotion for their business projects. The closing event will start at 12 p.m. and will be streamed live, in a hybrid format.
After four months of intense work, the entrepreneurs participating in the Acelera and Fast Track programs will present their projects and a demo before a panel of experts, made up of some of the key players in the country's startup ecosystem. The members of this select panel are Rafael Fontana, Senior Partner of Cuatrecasas; Francesc Muñoz, CIO of Cuatrecasas; Diana Rivera, partner of Cuatrecasas; Carlos Grau, CEO of MWC; Marc Badosa, founding partner of 4Founders Capital; and Rebeca Pérez, CEO of Inviertis and former Acelera participant.
The objective of the Cuatrecasas accelerator is to detect top talent in projects with great potential, and to provide them with legal, business and technological support, as well as access to clients and financing. Up until the last edition, the Acelera program only accepted European projects, but a new feature of this edition is that the accelerator will also be open to proposals from Latin America.
Legaltech startups and other startups with significant legal challenges are presented in the Acelera program. National and international scale-ups with legaltech, or technology that is applicable to the legal sector, are presented in the Fast Track program.
In this edition, the projects participating in the accelerator program belong to the fintech, healthtech, energy and media sectors. The following projects will be presented on Demo Day:
Belender: This is the first platform that obtains, in real time, all the official documents on a potential client directly from the public administrations' websites (Bank of Spain Risk Information Center [CIRBE], income, work life, monthly contributions, situation with the Social Security, VAT, corporate tax and many other documents). It accelerates the process for obtaining documents and improves the quantity and quality of the data in a risk-assessment process.
Bia Power: A startup focused on optimizing the charging of electric vehicles to reduce costs, ensure a green charge and enable the electricity networks to be clean and reliable.
Izi Record: This technology enables the recordings of a group of users during any sporting, musical or professional event to be combined to create, edit and customize videos, in only three clicks: record, edit and share.
Match Trial: A technological solution that accelerates the inclusion of cancer patients in clinical trials through a free application. Thanks to an intelligent algorithm, the application enables patients and medical professionals to find a clinical trial that is compatible with the diagnosis of a cancer patient in just a few minutes, offering a personalized experience based on a questionnaire about the person's state of health.
Mo Technologies: This platform uses disruptive technology to create, grow and optimize more inclusive and digital financial solutions. Its modular products include a digital lending platform, alternative scoring and analysis, and complementary data for clients to make better decisions.
Wixdom: The first aggregator of multiplatform crowdfunding transactions worldwide. It enables follow-up of the market in real time, the updating of the feed with new startups seeking financing or carrying out analyses and comparatives to make decisions using a portfolio management tool that enables investment management.
Finally, the Fast Track program will present the results of the pilot projects developed with two startups:
Nexl: This all-in-one front office CRM platform enables law firms and lawyers to strengthen client relationships, develop new business and increase revenue through new commercial strategies.
Omnios: This startup develops platforms for different sectors that collect and analyze large quantities of non-structured information (text, audio, and video) with artificial intelligence to improve, automate and accelerate strategic decision-making.
Register here to watch the grand closing event of the sixth Cuatrecasas Acelera program in person or via streaming.
Cuatrecasas Acelera website: https://acelera.cuatrecasas.com/