Cuatrecasas successfully holds its Welcome Program for the master's degree students that will carry out their internships at the firm in the coming mo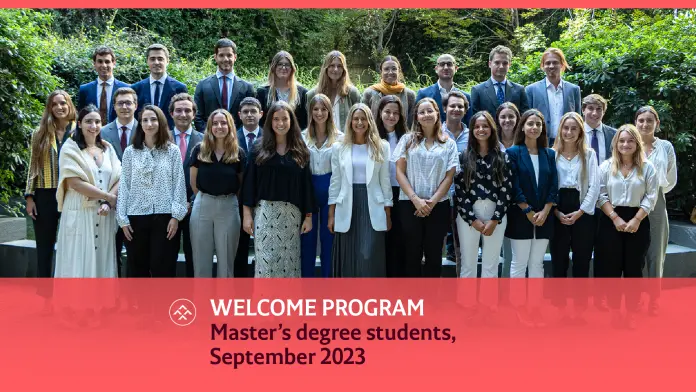 On September 5 and 6, Cuatrecasas held another edition of its Welcome Program to receive 68 students of the Master for Admission to the Practice of Law. These young legal talents have joined the offices in Barcelona, Bogotá, Lisbon, Madrid, Málaga, Porto, San Sebastián, Santiago, Seville, Valencia, Vigo and Zaragoza to carry out their internships.
The interns were able gain an in-depth knowledge of the Cuatrecasas philosophy and its activities through various online sessions held throughout the program. Several of the Cuatrecasas lawyers provided information on the firm's organizational structure, the pillars of its culture and values, and the work of the Knowledge and Innovation Group. They also discussed examples of successful cases and international experiences.
The Welcome Program offers a unique opportunity to learn how the firm really works through some of its lawyers:
Carmen Bardi
, Labor and Employment mid-level associate; Marta Cabarrocas, Knowledge and Innovation Group lawyer; Leticia Casas, recruitment specialist; Jaume Duch, Knowledge and Innovation Group senior lawyer;
Lucía Montes
, Litigation and Arbitration partner;
Tatiana Muñoz
, Labor and Employment senior associate; Núria Rexach, recruitment manager;
Javier Rovira
, Corporate and M&A mid-level associate;
Mónica Teixeira André
, Knowledge and Innovation Group senior lawyer; and
Mariano Ucar
, Corporate and M&A partner.
On this occasion, the newcomers to the Cuatrecasas offices in Spain, Portugal and Latin America come from 28 different universities and study centers and have chosen to carry out their internships in the specialty areas of Public Law, Finance and Tax, Labor and Employment, Litigation and Arbitration, and Corporate and M&A.