Cuatrecasas strengthens its position in Latin America with the addition of Diego Carrión and Juan David Mina as new partners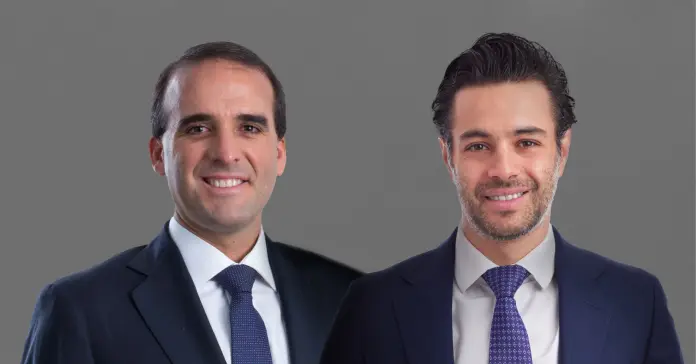 Cuatrecasas continues to consolidate its position in Latin America with the hiring of Diego Carrión in the Corporate and M&A Practice, in the Lima office, and Juan David Mina, in the Tax Practice in Mexico City. These recruitments confirm the commitment of Cuatrecasas to continue strengthening its position in the Latin American market.
Diego Carrión |Corporate and M&A partner, Lima
Diego Carrión has extensive experience in advising companies and investment funds on corporate matters, mergers and acquisitions, and private equity, as well as finance and the securities market. Diego has a Bachelor of Laws (magna cum laude) from
Pontificia Universidad Católica del Perú
and a Master of Laws from
Harvard Law School
. He is also recognized as a leader in his practice area in different legal directories, including Chambers Global, Chambers Latin America, IFLR1000, The Legal 500, Leaders League and Latin Lawyer.
Aldo Reggiardo
, managing director of the Cuatrecasas Lima office stated: "We are very excited about Diego joining our team in Lima. He is undoubtedly one of the best M&A lawyers of his generation in Peru; his talent and experience will enable us to extend the capacities of the Lima office's Commercial Practice, particularly those of our corporate and M&A teams. His joining us is a response to the office's growth since its opening in the market just over three years ago, and is aligned with the firm's aim to become one of the leading firms in Peru and in Latin America."
With Diego Carrión onboard, the Peru office strengthens its Corporate and M&A Practice to redouble its position as a leading law firm in Peru and in Latin America.
Juan David Mina | Tax partner, Mexico City
Juan David Mina has over 14 years' experience in advising local and international clients on complex crossborder transactions, and on structuring investments, financing and M&A, particularly in the energy and infrastructure, private equity and venture capital, finance, fintech and real estate sectors. He also specializes in corporate taxation and has advised clients on tax in relation to many corporate restructurings, securities issues on the capital and debt markets, project finance, tax controversy and asset planning.
Marco Antonio de la Peña
,
Santiago Ferrer
and
León López
, partners at Cuatrecasas Mexico stated: "We are very happy with the hiring of Juan David. We are sure he will help position Cuatrecasas as one of the most reputed firms for the tax structuring of transactions and for managing private wealth in Mexico and in Latin America. In this context, Juan David's profile and experience, with an education in law and in accounting, ensure the best results in tax consultancy for our clients."
The Mexico City office was the spearhead in the firm's international expansion; this appointment reinforces its commitment to the Mexican market and will boost the firm's presence in important transactions on the Latin American market. Currently, the office is made up of over 30 specialized lawyers advising banks, funds and large companies on their transactions in Mexico and abroad.