The Firm wins The Financial Times's highest award for innovation in business law for the third time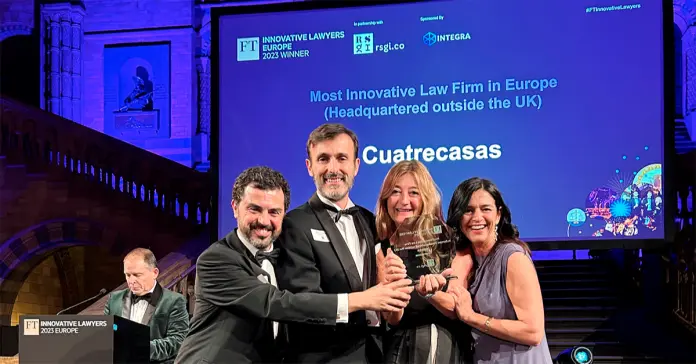 Cuatrecasas has been named the most innovative law firm in continental Europe (excluding the UK) in the new edition of the FT Innovative Lawyers Awards Europe 2023. This is the third time in the last six years (2018, 2019 and 2023) that Cuatrecasas has received the highest accolade in the awards held by the prestigious British newspaper The Financial Times in the field of innovation applied to business law.
The Firm received this highest form of recognition at an exclusive award ceremony held last Thursday at the Natural Science Museum in London, where the most prominent law firms in the European legal sector came together at an event to celebrate innovation, creativity and talent in the practice of law, and to discuss different perspectives.
Representatives of Cuatrecasas attended the event, with the awards being collected by Álvaro Bourkaib, partner of the Commercial practice; Laura Canudas, director of Marketing and Business Development; Paulo Costa Martins, partner of the Commercial practice; and Núria Martín, director of Human Resources.
Around 30 awards were presented, recognizing the work of leading firms in digital innovation, business strategy, talent management and driving positive change in the legal profession, among other categories.
Having been selected from among more than one hundred top-tier firms, this recognition also reinforces Cuatrecasas's leadership and commitment to innovation as a strategic priority that adds value to the practice of law and makes it possible to provide our clients with the best service and to continue to offer them the latest trends in the sector.