BeSplink, Emily.ai, Polyrewards, SIA, Therminer and Tokencity, new startups selected to participate in Cuatrecasas Acelera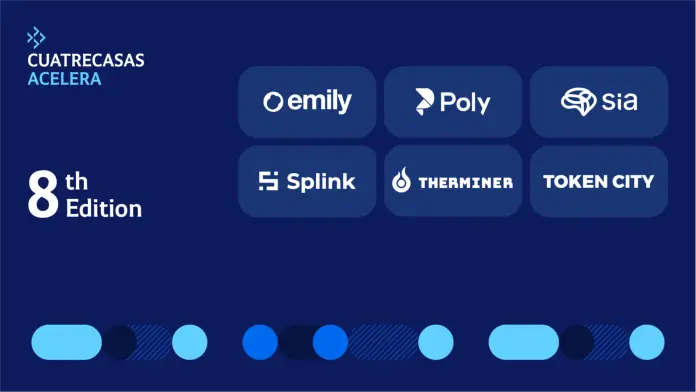 Cuatrecasas business accelerator program, Cuatrecasa Acelera, which has already helped over 40 startups launch their business, has selected six projects focused on the Fintech, Healthtech, Energy and Deeptech sectors. Over 90 applications from Spain, Portugal and Latin America were received. As it was the case last year, one of the startups chosen by the jury to participate in the program is Portuguese.
"We continue to see increasing maturity in the startups applying to our program. It has been extremely difficult to choose these six, but we are very excited with the selection. We are focusing on generative AI, which has also provided us with a set of different startups," remarks Francesc Muñoz, Cuatrecasas CIO.
The startups will meet in Barcelona on September 19 and 20 and in Madrid on November 8 and 9 to attend the respective bootcamps planned for this year. These meetings are of great interest for the entrepreneurs, who will start working on accelerating and boosting the growth of their projects together with their legal mentors, both in business and technology, who will accompany them throughout the four months of the program. They will also have the opportunity to meet some of the participants from previous editions and expand their network of contacts in the ecosystem.
During these days, entrepreneurs will validate and establish their projects' legal growth strategies, in addition to facing negotiation simulation sessions and identifying the legal challenges of applying disruptive technologies, which they use to drive their projects. They will also learn to gain traction through presentations by the firm's partners and lawyers with expertise in the main areas of business law and legal training sessions in tax, employment and intellectual property.
Cuatrecasas Acelera collaborates with renowned representatives of the international venture capital scene, CEOs of recognized international companies and experts with a long track record in the startup sector, with whom they will be able to discuss in detail relevant legal and business issues such as compliance, cybersecurity, growth hacking, UX/UI design, fundraising and finances, communication and sales and corporate culture.
"Startups are increasingly aware of the added value of having expert legal advice as part of their growth strategy. They know the legal challenges faced by their business and technology, and they want to understand the legal framework to add it as part of their sales pitch," explains Alba Molina, Innovation Project Manager at Cuatrecasas.
Selected projects:
BeSplink
(Deeptech - Portugal)
: It connects sports fans and their favorite clubs or teams through immersive experiences and official interactive collectibles that make it possible to show the support of the fans.
Emily.ai
(Healthtech - Spain)
: It is the first holistic system of pulmonary care based on AI in the world, capable of customizing oxygen therapy for respiratory patients with a personal pneumologist on call 24 hours a day.
Polyrewards (Fintech - Spain): It aims to democratize the use and acquisition of digital assets by applying user rewards in Bitcoin to online purchases.
SIA
(Deeptech - Spain)
: It enables companies to integrate private language models into their business ecosystem through intelligent assistants, knowledge managers and automatic document generators.
Therminer (Energy - Spain): It transforms server dissipated heat at home into heat and clean hot water, using electric power twice.
Tokencity
(Fintech - Spain)
: It provides full technology infrastructure that includes management and advice on tokenized financial assets inside a crypto-asset market backed by financial assets of private companies.
Cuatrecasas Fast Track
Cuatrecasas Fast Track keeps an open call all year to add new projects to this program with the purpose of testing international scaleup technologies so that, in collaboration with the firm, participants can design, co-create and develop pilot tests in relation to the business challenges currently faced by law firms. This edition focuses on generative AI and is looking for projects that will respond to any of the following challenges: maximizing collective knowledge in Cuatrecasas; fostering productivity and efficiency in the legal sector through automation systems; developing solutions that enable digitalization of the relationship; and improving collaboration with the client to encourage customer engagement.