Cuatrecasas holds annual session with participants of Doctorate and Practice of Law Program at Barcelona office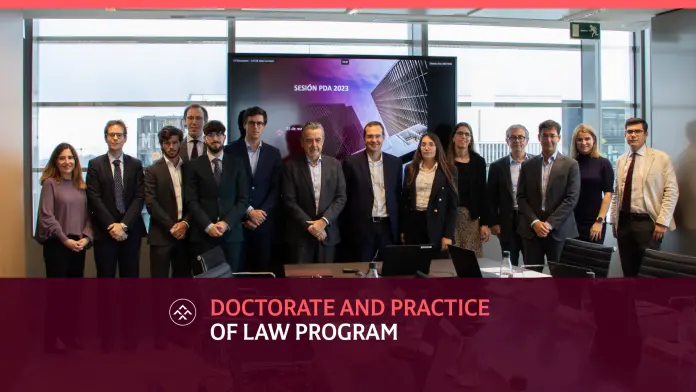 On Thursday, May 25, Cuatrecasas held its annual session of the Doctorate and Practice of Law Program (PDA), a program the firm offers students of masters for admission to the practice of law and graduates with outstanding grades, so they can practice law at a large firm while continuing with top-level academic training.
Cuatrecasas partners
Juan Aguayo
and
Miguel Trias
, the program's directors, led the session in which Núria Rexach and María Piera (HR) also participated and collaborated. "The Cuatrecasas PDA enables young lawyers with academic interests and high intellectual abilities to prepare a thesis on topics of important practical relevance. The PDA brings the professional practice and the academic field closer together. Legal problems are better defined, and the best solutions are found in the practical reality when advising clients," said Juan Aguayo about the many benefits of this program.
Miguel Trias said: "Thanks to the Cuatrecasas PDA, the lawyers preparing for doctorates have the opportunity to check their research hypotheses against real situations they come up against at work, enabling them to study topics in more detail, with greater precision and in a practical manner. To help the program participants to write their thesis, the firm reduces their professional objectives by 25% while keeping salary the same."
At the session, there was a presentation of the young lawyers joining the program this year: Virginia Bazaga, Marcos Díaz and Juan Pablo García. The program's current participants,
Guido Adlaoui
, Antonio Belda, Julio David Moreno, Mª del Carmen Peregrina, Francisco Miguel de Pina, Joshua Pownall and Gonzalo Terceño, presented their respective research topics and reviewed the developments made in recent months. To conclude, the participants shared their impressions and gave an overall assessment of their experience on the program so far.