The entry of Rodrigo Stein and Alberto Zuleta as partners will allow Cuatrecasas to continue to be a legal benchmark in the region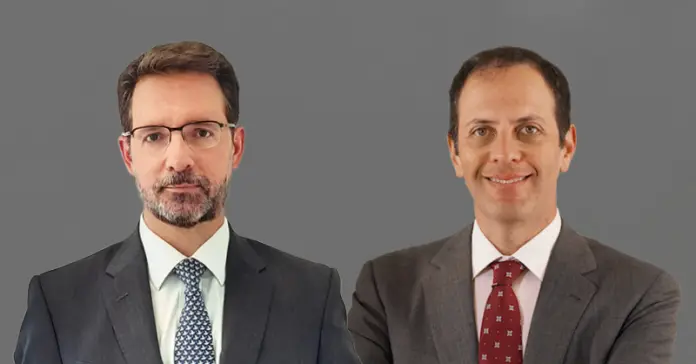 Cuatrecasas consolidates its position in Latin America with the incorporation—approved by the firm's partners—of two new partners, lawyers
Rodrigo Stein
in the Santiago de Chile office, in the Corporate and International Tax Practice, and Alberto Zuleta in the Bogotá office, in the International Litigation and Arbitration Practice. Both represent the firm's firm commitment to continue to grow in the Latin American legal sector.
Rodrigo Stein | Parter of Corporate Taxation, and Corporate and M&A, Santiago de Chile
Rodrigo Stein has over 20 years' experience advising national and international clients on corporate, indirect and international taxation, and transfer pricing. He is also recognized for his work representing clients in their dealings with the tax authorities, both at an administrative level and in court, and in leading complex finance projects, investment and merger structuring, and crossborder restructuring.
Cristian Conejero
, managing partner of the Cuatrecasas Santiago de Chile office, says that "Cuatrecasas has its origins and a long track record in advising companies and family groups on national and international taxation. The arrival of Rodrigo and his team at our office in Chile is a major milestone, not only because it enables us to incorporate this highly relevant practice area—which is of particular value in current times and with the coming reforms—but also because we are doing it under Rodrigo's leadership who, as a widely recognized expert in Chile, has advised diverse national and international groups in the most varied industries."
With the addition of Rodrigo Stein, the Santiago de Chile office has become one of the key players in the Cuatrecasas bid to establish itself in Latin America and become a benchmark law firm in the market. The office, which has grown significantly since opening its doors, provides advisory services in the main areas of law, particularly litigation and arbitration, M&A, capital markets and financing and now corporate taxation.
Alberto Zuleta | Partner of International Litigation and Arbitration, Bogotá
A specialist with over 20 years' experience in litigation, national and international arbitration, dispute resolution and economic competition, he handles proceedings at all court levels in Colombia, as well as proceedings with public administration entities and oversight entities. His extensive background in arbitration also includes internal and crossborder proceedings under the rules of the International Chamber of Commerce (ICC), the United Nations Commission on International Trade Law (UNCITRAL), the International Centre for Dispute Resolution (ICDR) and the arbitration centers in Colombia.
Managing partner of the Cuatrecasas office in Bogotá,
Manuel Quinche
, is emphatic about the addition of Zuleta: "We have set ourselves an objective for the Litigation and Arbitration Practice that Cuatrecasas wants to develop in Colombia and Latin America. The addition of a lawyer with Alberto's experience, recognition and talent to lead our Arbitration and Litigation team is a clear indication of our proposed objective and the value proposition we want to deliver to our clients."
The Bogotá office has quickly become one of the Cuatrecasas cornerstones in Latin America. It has grown in transaction volume (the fifth according to TTR's 2021 ranking for Colombia) and achieved prominence in a market with complex, tough competition. The office, with a team that is almost 50-strong, provides expert advice on transactional matters, financing, capital markets, M&A, project structuring and development, and now international litigation and arbitration.