Rock & Law beats its record and raises over €96,812 in tenth year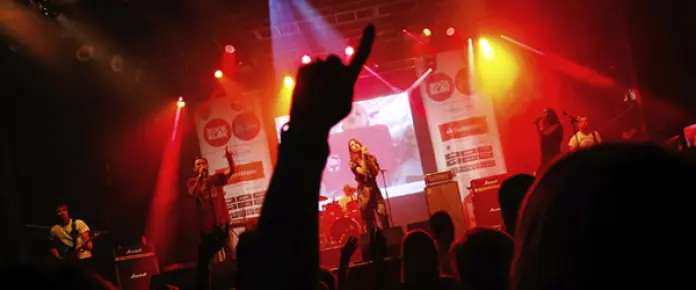 Over 1,000 people attended the tenth edition of Rock & Law, the legal world's fundraising concert, which was held in Barcelona for the third time. The initiative raised over €96.812 between ticket sales and sponsorships, all of which will go to the Enriqueta Villavecchia Foundation "Cuenta conmigo" (Count on me) project to support palliative pediatric care. These are record proceeds in the history of this fundraiser in Spain.
The funds will go to strengthening the current support units in pediatric palliative care and to increasing social care for the families. Last year, "Count on me" helped over 200 families of children with complex chronic diseases and cancer, and this year the plan is to increase the number of families that are attended. The program is promoted by the Enriqueta Villavecchia Foundation with the participation of five leading children's hospitals (Germans Trias i Pujol, Parc Taulí, Sant Joan de Déu, Sant Pau and Vall d'Hebrón). It provides medical attention, nursing, psychosocial care and family respite through voluntary work, at the hospital and at home, throughout Catalonia.
The Rock & Law initiative is promoted by the foundations of several Spanish law firms: Clifford Chance, Cuatrecasas, Fernando Pombo, Garrigues and Profesor Uría. And CMS, Roca Junyent and a group of state attorneys took part in organizing the event.
The concert was emceed by journalist and presenter Anna Simón, and the bands that participated were Control de Cambios (CMS), JC & The Dealbreakers (Garrigues), La Banda Líquida (Roca Junyent), Mind the GA_P (Gomez-Acebo & Pombo), Sujetos Activos (Uría Menéndez), The Rocking Houses (Cuatrecasas), and Imperio de la Ley, made up of four state attorneys.
This year's concert was sponsored by AON, ASISA, Baker McKenzie, Caser Seguros, Durex, LeFebvre, Lex-Soft, Medina Cuadros Procuradores, Mutualidad Abogacía, NetDocuments, Ricoh, Santander, Soler & Palau Ventilation Group, and Tecnotramit. Also collaborating with the event were Abstract, Claris Hotel & Spa, Coca-Cola, Creu Roja, Deliveroo, Derby Hotels Collection, Diana Segura, Estudio Variable, Intermèdia Comunicació, La Universal Ensayos, Pedro Pou and Serafí.
Barcelona raised €66,419 at the last concert held in the city in 2017. That year, the proceeds went to the Neurological Rehabilitation Center Project of the Multiple Sclerosis Foundation, which works to improve the patients' quality of life with neurological and functional recovery. Last year, in Madrid, €60,376 were raised for DEBRA Spain (the Butterfly Children Charity).