Amadeus receives Manuel Olivencia Award for good corporate governance practices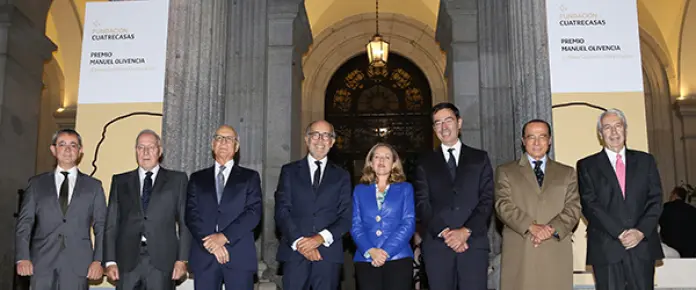 Yesterday, the Cuatrecasas Foundation awarded the Manuel Olivencia Award for Good Corporate Governance, which acknowledges the best corporate governance practices by Spanish listed companies, to Amadeus IT Group, S.A. The Spanish minister of economy and business, Nadia Calviño, attended the award ceremony, which was held at the Madrid Stock Exchange Palace.
Amadeus CEO, José Antonio Tazón, explained that corporate governance is an essential component of their work culture: "Corporate governance is an ongoing priority for our board of directors and for management. This award, which acknowledges and confirms our commitment, is an incentive to continue with our good governance practices, so we can ensure its correct development and adaptation to the needs and requirements of the market and of all our target groups."
In her speech, Nadia Calviño, highlighted how important it was that companies understand that good governance is in their own interest. She also emphasized that, currently, Spain is growing in a more sustainable and balanced way than in previous periods and that good governance contributes to "more solid economic growth and a more inclusive society." To close, she highlighted that the general opinion is more and more that companies should go further than only ensuring the creation of value for shareholders and should also look after the interests of their workers and clients."
Cuatrecasas managing partner, Jorge Badía, stated that "We hope that the acknowledgment of excellent companies in this area serves as an example and promotes the protection of social interests—in its most ample meaning—and business ethics, because these are the only two pillars on which to base sustainable growth."
Juan Aguayo, partner at Cuatrecasas and the award's director, pointed out that the panel of judges had assessed a high number of companies: "We carried out an in-depth analysis of the corporate governance of the Ibex-35 companies, the 20 companies of the Ibex Medium Cap and the 30 of the Ibex Small Cap—a total of 85 companies. The objective of the Manuel Olivencia Award is to promote the best corporate governance practices by awarding the best companies so they serve as an example to others."
To grant the award, the panel analyzed factors, such as following up on what are considered best practices in relation to the structure and make up of the board of directors: the percentage of independent directors (77%); the system used to re-elect directors annually, after their initial appointment for three years; the transparency and professional nature of the selection policy; the technical qualifications and professional experience of directors; and the promotion of diversity on the board. The panel also highlighted Amadeus's transparency regarding remuneration and its engagement practices with investors.
The award granted by the Cuatrecasas Foundation honors the memory of the late Manuel Olivencia, a professor of commercial law at the University of Seville, vice chair of Cuatrecasas and chair of the committee that drafted the first Spanish Code of Corporate Governance in 1998, known as the Olivencia Code.
See photo gallery
About Amadeus IT Group, S.A.
Travel leads to progress, and Amadeus makes travel happen. Amadeus solutions provide travel options to people planning trips through travel agencies, search engines, tour operators, airlines, airports, hotels, cars and trains.
Amadeus has been developing its technology in collaboration with the travel industry for over 30 years. Thanks to its in-depth knowledge of travel habits and its ability to conceive and develop complex, reliable and essential systems, it designs solutions that meet its clients' needs. It facilitates contact between over 1.6 billion people each year and local providers in over 190 countries.
Amadeus has 19,000 employees in 70 offices. With a global mentality and local presence, it is present wherever its clients need it. Its aim is to shape the future of travel. It is passionate about finding the best technology for fostering excellent travel options. Amadeus is an IBEX-35 company and trades on the Spanish stock exchanges with the symbol AMS.MC. It is also a member of EuroStoxx 50, and Dow Jones Sustainability Index has acknowledged it in the last eight years.
About the panel of judges

The panel is made up of 15 members, all well-known and highly recognized individuals in Spain's business and legal spheres, and is chaired by Manuel Pizarro, also chair of the Royal Academy of Case Law and Legislation.
The members of the panel are as follows: Juan Arena, former chair of Bankinter; Francisco Ballester, honorary partner at Cuatrecasas; Jaime Caruana, former governor of Banco de España; Eva Castillo, former chair of Telefónica Europa and former chair of Merrill Lynch Spain and Portugal; Adela Cortina, professor emeritus of ethics and political philosophy at the University of Valencia; Cristina Garmendia Mendizábal, chair of the Cotec Foundation; Ignacio Gil-Casares, former chair and founder of Spencer Stuart in Spain; Luis Isasi, chair and CEO of Morgan Stanley; Consuelo Madrigal, former attorney general; Francisco Pérez-Crespo Payá, partner at Cuatrecasas; Matías Rodríguez Inciarte, chair of Santander Universities; Soraya Sáenz de Santamaría, partner at Cuatrecasas and former deputy prime minister of Spain; Alfonso Sánchez-Tabernero, dean of the University of Navarra; and Antonio Zoido Martínez, chair of Bolsas y Mercados Españoles (the Spanish company dealing with the organizational aspects of the Spanish stock exchanges and financial markets) and chair of the Madrid stock exchange. Rafael Hidalgo, counsel at Cuatrecasas, is non-member secretary.
About the first edition of the Award
In its first edition, the Manuel Olivencia Award for Good Corporate Governance was awarded to the International Airlines Group (IAG) at a reception held at the Madrid Stock Exchange Palace on October 30, 2018. The panel highlighted the composition of IAG's board of directors, which has an ample majority of independent directors, including its chair. The panel also valued its investor relation policy, the duration of directors' term of office (the directors are subject to yearly voting by the shareholders meeting), the selection and training policies for the directors, and the transparency in remuneration matters.
About Manuel Olivencia
Manuel Olivencia was an accomplished lawyer who combined the vocation of teaching from his chair of commercial law with the desire to share knowledge from his professional work in Cuatrecasas, as a partner of this firm. His impressive professional curriculum as a lawyer, university professor, undersecretary of education, commissioner of the Expo 92 in Seville and chair of the commission that drafted the Olivencia Code, is complemented by his personal trajectory and the indelible memories he left his family, friends, students, colleagues and everyone who knew and interacted with him. He accumulated numerous awards and acknowledgments throughout his life, both in Spain and abroad, as a very cosmopolitan man that studied and lived in different countries. Manuel Olivencia received many awards, including several Grand Spanish Crosses, such as the Civil Order of Alfonso X the Wise, Royal Order of Isabella the Catholic, the Cross of Military Merit, the Cross of Saint Raymond of Penyafort and the Cross of St. George of Catalonia. He was named Favorite Son of Ronda and Adopted Son of Seville, and received the Gold Medal of Ceuta, where he spent part of his childhood.