Sixth edition of the Cuatrecasas Women in Business works on strategies to create global business while maintaining local roots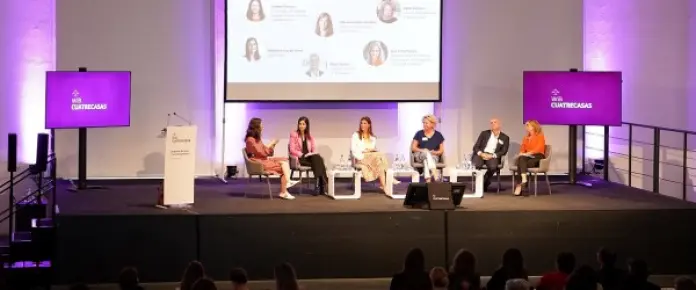 La VI edición de Women in Business de Cuatrecasas ha relacionado las estrategias y modelos de negocio global con las oportunidades y desafíos locales, siempre ligados al talento femenino.
La presidenta de la Fundación Champalimaud y ex ministra de Sanidad del gobierno de Portugal, Leonor Beleza, ha sido la oradora principal. Ha relatado su lucha por promover los derechos de las mujeres a lo largo de su carrera profesional y ha destacado que actualmente en Europa países muy poderosos están gobernados por mujeres, algo impensable hace pocos años. María João Ricou, socia directora de Cuatrecasas en Portugal, ha inaugurado la conferencia. En la mesa redonda han participado Cristina Fonseca (cofundadora y socia de Indico Capital Partners), Helen Duphorn (country retail manager en Ikea Portugal), Madalena Cascais Tomé (CEO de SIBS), Paulo Rosado (fundador y CEO de Outsystems) y Vera Pinto Pereira (miembro del Consejo Ejecutivo de EDP Energías de Portugal y CEO de EDP Comercial). Los participantes han debatido cómo las empresas fijan una estrategia global sin olvidar las particularidades locales, haciendo énfasis en que las necesidades y los valores son universales, mientras que las oportunidades son locales. Ha moderado la sesión la socia de Cuatrecasas Mariana Norton dos Reis, cofundadora de la iniciativa WiB Cuatrecasas junto con la socia Diana Rivera. Soraya Sáenz de Santamaría, socia de Cuatrecasas, ha clausurado el encuentro.
Tras el éxito de anteriores ediciones, la VI convocatoria ha tenido lugar en la capital lusa y ha sido, una vez más, un punto de encuentro de empresarias y directivas para debatir sobre temas de actualidad que marcan el mundo empresarial.